v1072-367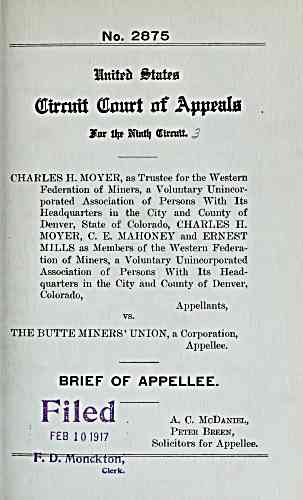 No. 2875
(Hixmxt (Hmtt of Appala
CHARLES H. MOYER, as Trustee for the Western
Federation of Miners, a Voluntary Unincor-
porated Association of Persons With Its
Headquarters in the City and County of
Denver, State of Colorado, CHARLES H.
; MOYER, C. E. MAHONEY and ERNEST
MILLS as Members of the Western Federa-
tion of Miners, a Voluntary Unincorporated
Association of Persons With Its Head-
quarters in the City and County of Denver,
Colorado,
Appellants,
vs.
THE BUTTE MINERS' UNION, a Corporation,
Appellee.
BRIEF OF APPELLEE.
Filed
McDaniel,
FEB 1 1917 Peter Breen,
Solicitors for Appellee.
monckton,
Clerk.
---
archive.org Volume Name: govuscourtsca9briefs1072
Volume: http://archive.org/stream/govuscourtsca9briefs1072
Document Link: http://archive.org/stream/govuscourtsca9briefs1072#page/n366/mode/1up
Top Keywords (auto-generated):
charter, miners, union, property, butte, federation, western, members, local, laws, corporation, lodge, member, meeting, organization
Top Key Phrases (auto-generated):
miners union, butte miners, western federation, grand lodge, forfeiture clause, miners union., prop erty, char ter, national council, ern federation, local assembly, approved march, western federa, union hall, october 1914,
Document Status: UGLY