v1095-88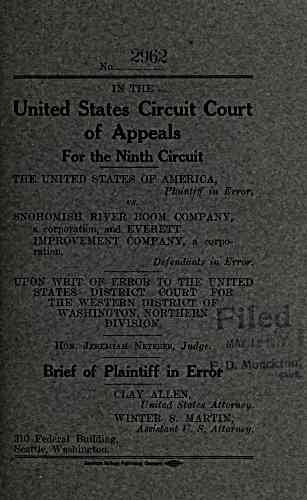 J^'
iint the
United States Circuit Court
of Appeals
For the Ninth Circuit
THE UNITED STATES OF AMERICA,
Plaintiff in Error,
SNOHOMISH RIVER BOOM COMPANY,
a corporation, and EVERETT
IMPROVEMENT COMPANY, a corpo-
ration,
Defendants in Error.
UPON WRIT OF ERROR TO THE UNITED
STATES DISTRICT COURT FOR
THE WESTERN DISTRICT OF
WASHINGTON, NORTHERN
DIVISION.
Hon. Jekemiah Neteeeb, Judge.
Brief of Plaintiff in ErrSr
CLAY ALLEN,
Unifed States Attorney.
WINTER. S. MARTIN,
Assistant U. S. Attorney.
310 Federal Building,
Seattle, Washington.
American Railway Publishing Cempany,'
---
archive.org Volume Name: govuscourtsca9briefs1095
Volume: http://archive.org/stream/govuscourtsca9briefs1095
Document Link: http://archive.org/stream/govuscourtsca9briefs1095#page/n87/mode/1up
Top Keywords (auto-generated):
slough, water, mouth, land, reservation, ebey, boundary, survey, shore, low, across, tide, proclamation, meander, lands
Top Key Phrases (auto-generated):
ebey slough, low water, high water, water mark, triangular strip, tulalip indian, tide land, fitz henry, port gardner, indian reservation., tulalip bay, steamboat slough, main land, kwilt cedar, field notes
Document Status: UGLY