v1175-403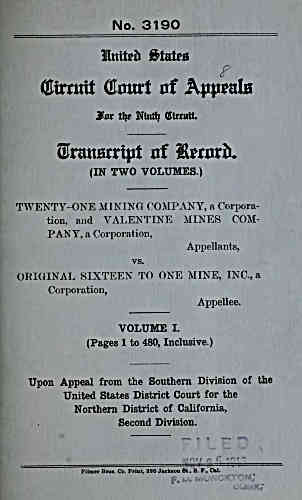 No, 3190
Ctrrmt doitrt of Atpate
ranarnjjt of Eworli
(IN TWO VOLUMES.)
TAVENTY-ONE MINING COMPANY, a Corpora-
tion, and VALENTINE MINES COM-
PANY, a Corporation,
Appellants,
vs.
ORIGINAL SIXTEEN TO ONE MINE, INC., a
Corporation,
Appellee.
VOLUME I.
(Pages 1 to 480, Inclusive.)
Upon Appeal from the Southern Division of the
United States District Court for the
Northern District of California,
Second Division.
Filmer BroB. Co. Print, 380 Jackson St., S. F., Oal.
IF. -''
r'
---
archive.org Volume Name: govuscourtsca9briefs1175
Volume: http://archive.org/stream/govuscourtsca9briefs1175
Document Link: http://archive.org/stream/govuscourtsca9briefs1175#page/n402/mode/1up
Top Keywords (auto-generated):
vein, fault, tunnel, quartz, raise, sixteen, wall, mining, foot, shaft, mine, level, below, cross, dip
Top Key Phrases (auto-generated):
mine inc., hanging wall, cross cut, foot wall, foot level, bradbury raise, tightner vein, high grade, apex raise, 250 foot, lode mining, black slate, 150 foot, valentine mines, ore bearing
Document Status: UGLY