v1194-301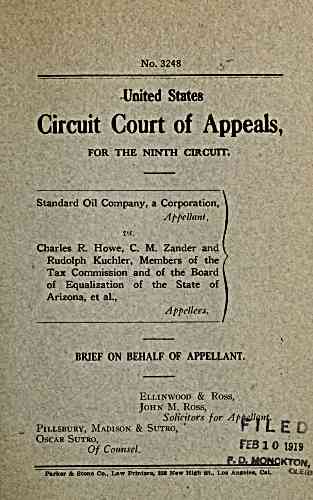 No. 3248
United States
Circuit Court of Appeals,
FOR THE NINTH CIRCUIT.
Standard Oil Company, a Corporation,
Appellant,
vs.
Charles R. Howe, C. M. Zander and
Rudolph Kuchler, Members of the
Tax Commission and of the Board
of Equalization of the State of
Arizona, et al.,
Appellees.
BRIEF ON BEHALF OF APPELLANT.
Ellinwood & Ross,
John M. Ross,
Solicitors for Aplani.
PiLLSBURY, Madison & Sutro, ' L E t
Oscar Sutro, -^li _ ^
Of Counsel. tEBlO 1919
Parker & Stone Co., Law Printers, 238 New High St., Loa Angeles, Cal. 0(L*:ii
---
archive.org Volume Name: govuscourtsca9briefs1194
Volume: http://archive.org/stream/govuscourtsca9briefs1194
Document Link: http://archive.org/stream/govuscourtsca9briefs1194#page/n300/mode/1up
Top Keywords (auto-generated):
property, county, taxes, arizona, tax, remedy, assessment, increase, equity, equalization, valuation, paragraph, properties, jurisdiction, pac
Top Key Phrases (auto-generated):
county treasurer, personal property, paragraph 4887, increase complained, prop erty, adequate remedy, equity jurisdiction, interstate commerce, appel lant, western union, federal courts, assessment roll, county boards, county authorities, ari zona
Document Status: UGLY