v1216-387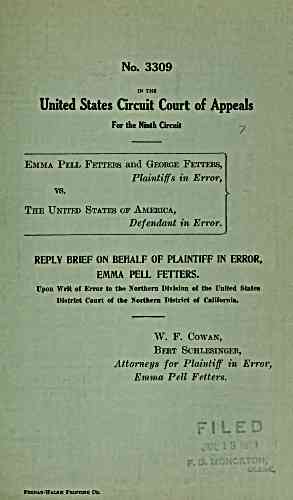 No. 3309
IN THE
United States Circuit Court of Appeals
For the Ninth Circuit -j
Emma Pell Fetters and George Fetters,
Plaintiffs in Error,
vs.
The United States of America,
Defendant in Error.
REPLY BRIEF ON BEHALF OF PLAINTIFF IN ERROR,
EMMA PELL FETTERS.
Upon Writ of Error to the Northern DiTision of the United States
District Conrt of the IVorthern District of California.
Cowan,
Bert Schlesinger,
Attorneys for Plaintiff in Error,
Emma Pell Fetters.
T M P
?C"
Peunau-Walsh Pbintino Co.
---
archive.org Volume Name: govuscourtsca9briefs1216
Volume: http://archive.org/stream/govuscourtsca9briefs1216
Document Link: http://archive.org/stream/govuscourtsca9briefs1216#page/n386/mode/1up
Top Keywords (auto-generated):
fetters, lewis, liquor, government, entrapment, pell, emma, cranfill, clearly, detective, miss, george, box, witnesses, submit
Top Key Phrases (auto-generated):
emma pell, pell fetters, george fetters, pell fetters., duffy lewis, miss hughes, government detective, unconsciously associated, res gestae, government detectives, cowan bert, bert schlesinger, wood worth., wholly hear, walsh pbintino
Document Status: UGLY