v1260-751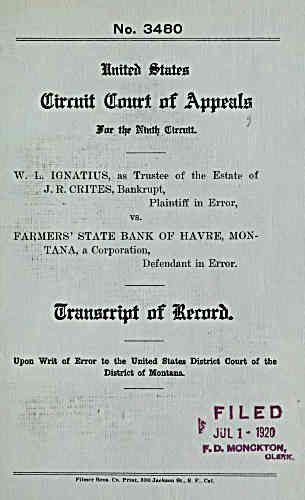 No. 3480
JTor % NiMtlj eitrrutt.
W. L. IGNATIUS, as Trustee of the Estate of
,;. J. R. CRITBS, Bankrupt,
Plaintiff in Error,
vs.
FARMERS' STATE BANK OF HAVRE, MON-
Defendant in Error.
Wmmttxpt of Sworft.
Upon Writ of Error to the United States District Court of the
District of Montana.
FILED
JUL 1-1920
F.D. MONCKTON,
Kilmer Bros. Co. Print. 330 Jackson St.. S, F.. Ci.
---
archive.org Volume Name: govuscourtsca9briefs1260
Volume: http://archive.org/stream/govuscourtsca9briefs1260
Document Link: http://archive.org/stream/govuscourtsca9briefs1260#page/n750/mode/1up
Top Keywords (auto-generated):
bank, crites, montana, havre, farmers, mortgage, stokke, 1917, business, property, ignatius, mortgages, notes, chattel, county
Top Key Phrases (auto-generated):
crites stokke, havre montana., havre montana, chattel mortgage, montana county, chattel mortgages, crites bankrupt, hill ss., notary public, montana residing, mon tana, commission expires, october 1917, mort gage, havre mon
Document Status: UGLY