v1260-969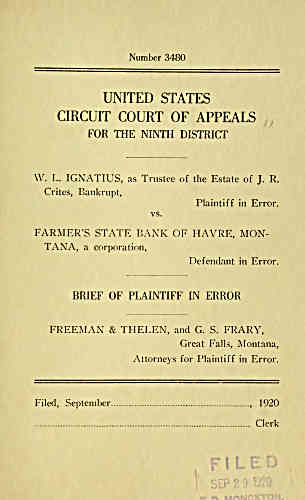 Number 3480
UNITED STATES
T COURT OF AF
FOR THE NINTH DISTRICT
CIRCUIT COURT OF APPEALS ,. ,
W. L. IGNATIUS, as Trustee of the Estate of J. R.
Crites, Bankrupt,
Plaintiff in Error,
vs.
FARMER'S STATE BANK OF HAVRE, MON-
TANA, a corporation,
Defendant in Error.
BRIEF OF PLAINTIFF IN ERROR
FREEMAN & THELEN, and G. S. FRARY,
Great Falls, Montana,
Attorneys for Plaintiff in Error.
Filed, September , 1920
Clerk
FILE
---
archive.org Volume Name: govuscourtsca9briefs1260
Volume: http://archive.org/stream/govuscourtsca9briefs1260
Document Link: http://archive.org/stream/govuscourtsca9briefs1260#page/n968/mode/1up
Top Keywords (auto-generated):
bank, rec, crites, creditors, mortgages, bankrupt, hinder, chattel, delay, business, mortgage, defraud, property, mortgagor, montana
Top Key Phrases (auto-generated):
chattel mortgages, hinder delay, bankrupt crites, crites bankrupt., blair president, defraud creditors, crites bankrupt, civil code, sound judicial, september 1917, section 5758, personal property, mort gages, montana laws, judicial discretion
Document Status: UGLY