v1337-165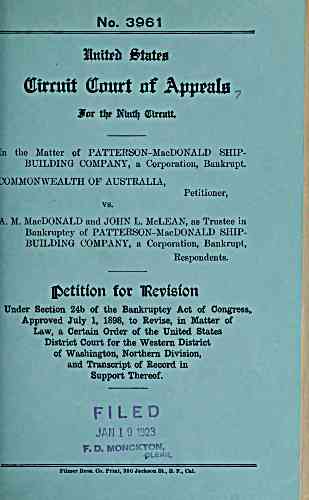 No. 3961
n the Matter of PATTEBSON-MacDONALD SHIP-
BUILDING COMPANY, a Corporation, Bankrupt.
:jommonwealth of Australia,
Petitioner,
vs.
A.. M. MacDONALD and JOHN L. McLEAN, as Trustee in
Bankruptcy of PATTERSON-MacDONALD SHIP-
BUILDINa COMPANY, a Corporation, Bankrupt,
Respondents.
Ipetitfon for IRevisfon
Under Section 24b of the Bankruptcy Act of Congress,.
Approved July 1, 1898, to Revise, in Matter of
Law, a Certain Ordel* of the United States
District Court for the Western District
of Washington, Northern Division,
and Transcript of Record in
Support Thereof.
FILE
JAM 1 9 1923
MONCJCrON,
Filmer Bros. Co. Print, 330 Jackson St., S. F., Cal.
---
archive.org Volume Name: govuscourtsca9briefs1337
Volume: http://archive.org/stream/govuscourtsca9briefs1337
Document Link: http://archive.org/stream/govuscourtsca9briefs1337#page/n164/mode/1up
Top Keywords (auto-generated):
macdonald, bankrupt, trustee, referee, district, bankruptcy, services, australia, petition, corporation, washington, review, rendered, petitioner, mclean
Top Key Phrases (auto-generated):
patterson macdonald, macdonald shipbuilding, western district, emergency fleet, fleet corporation, washington northern, services rendered, corporation bankrupt, ser vices, bankrupt respondents., australia petitioner, mac donald, australian government, son macdonald, ship building
Document Status: UGLY