v1337-339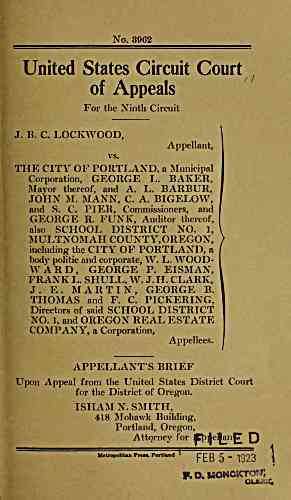 No. 3962
United States Circuit Court
of Appeals
For the Ninth Circuit
Appellant,
LOCKWOOD,
vs.
THE CITY OF PORTLAXD, a INIunicipal
Corporation, GEORGE L. BAKER,
Mayor thereof, and A. L. BARBUR,
JOHN M. MANN, C. A. BIGELOW,
and S. C. PIER, Commissioners, and
GEORGE R. FUNK, Auditor thereof,
also SCHOOL DISTRICT NO. 1,
MULTNOMAH COUNTY, OREGON,
including the CITY OF PORTLAND, a
body politic and corporate, W. L. WOOD-
WARD, GEORGE P. EISMAN,
FRANK L. SHULL, W. J.H. CLARK,
MARTIN, GEORGE B.
THOMAS and F. C. PICKERING,
Directors of said SCHOOL DISTRICT
NO. 1, and OREGON REAL ESTATE
COMPANY, a Corporation,
Appellees.
APPELLANT'S BRIEF
Upon Appeal from the United States District Court
for the District of Oregon.
ISHAM N. SMITH,
418 ^lohawk Building,
Portland, Oregon,
Attorney for pJe?^E D
Metropolitan Pr88, Portland
' FEB 5 - V323
JF.D.IAONOICTO?^;
---
archive.org Volume Name: govuscourtsca9briefs1337
Volume: http://archive.org/stream/govuscourtsca9briefs1337
Document Link: http://archive.org/stream/govuscourtsca9briefs1337#page/n338/mode/1up
Top Keywords (auto-generated):
public, streets, plat, lots, street, oregon, rights, deed, portland, vacation, property, right, city, estate, private
Top Key Phrases (auto-generated):
school district, italics ours., clark 134, public places, public necessity, private rights, hosier 97, portland 23, central trust, 338 33, title trust, thompson 84, pri vate, ore gon, lots according
Document Status: UGLY