v1380-255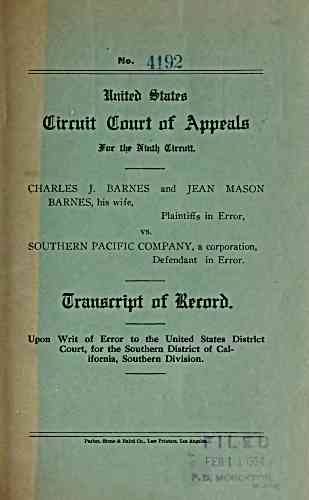 ^- 4192
Oltrrmt Olourt nf Appeals
3Fnr Uj? Ntntly Cdtrrutt.
CHARLES J. BARNES and JEAN MASON
BARNES, his wife,
Plaintiffs in Error,
vs.
SOUTHERN PACIFIC COMPANY, a corporation.
Defendant in Error.
ranarrtpt of ISitath.
Upon Writ of Error to the United States District
Court, for the Southern District of Cal-
ifornia, Southern Division.
Parker. Stone & Baiid Co., Law Printen, Los Anselet.
---
archive.org Volume Name: govuscourtsca9briefs1380
Volume: http://archive.org/stream/govuscourtsca9briefs1380
Document Link: http://archive.org/stream/govuscourtsca9briefs1380#page/n254/mode/1up
Top Keywords (auto-generated):
southern, barnes, district, pacific, charles, railroad, california, right, 1923, center, corporation, main, pleadings, los, possession
Top Key Phrases (auto-generated):
southern pacific, southern district, los angeles, mason barnes, pacific railroad, california southern, jean mason, main track, frank thunen, jane doe, san bernardino, section 32, newlin ashburn, doe barnes, 1923 chas.,
Document Status: UGLY