v1430-5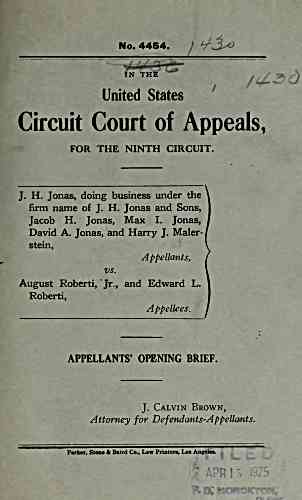 No. 4454. j ylix)
United States
Circuit Court of Appeals,
FOR THE NINTH CIRCUIT.
Jonas, doing business under the
firm name of J. H. Jonas and Sons,
Jacob H. Jonas, Max I. Jonas,
David A. Jonas, and Harry J. Maler-
stein.
Appellants,
vs.
August Roberti, "Jr., and Edward L.
Roberti,
Appellees.
APPELLANTS' OPENING BRIEF.
Calvin Brown,
Attorney for Defendants-Appellants.
Parker, Stone & Baird Co., Law Printers, Los Angeles.
Pfio -
---
archive.org Volume Name: govuscourtsca9briefs1430
Volume: http://archive.org/stream/govuscourtsca9briefs1430
Document Link: http://archive.org/stream/govuscourtsca9briefs1430#page/n4/mode/1up
Top Keywords (auto-generated):
patent, mattress, tick, roberti, claims, tabs, invention, eyelets, upper, ties, lower, secured, daniel, office, eyelet
Top Key Phrases (auto-generated):
patent office, upper tick, tick member, roberti patent, august roberti, edward roberti, lower tick, tabs secured, cotton works, tick members, reinforcing strip, imperial cotton, mat tress, malerstein patent, letters patent
Document Status: UGLY