v1462-341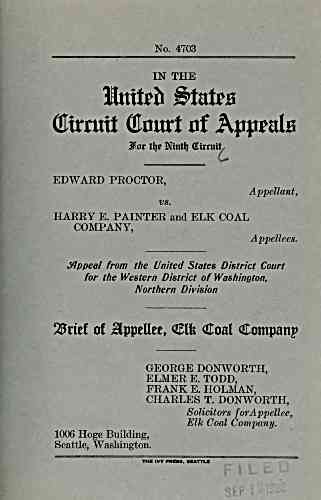 No. 4703
IN THE
ffltrrmt fflourt of Kppmy
3Far tJjj Nitttlj (EirruiL
EDWARD PROCTOR,
Appellant,
vs.
HARRY E. PAINTER and ELK COAL
COMPANY,
Appellees.
Appeal from the United States District Court
for the Western District of Washington,
Northern Division
25rief of HppeUee, Clk Coal Companp
GEORGE DONWORTH,
ELMER E. TODD,
FRANK E. HOLMAN,
CHARLES T. DONWORTH,
Solicitors for Appellee,
Elk Coal Company.
1006 Hoge Building,
Seattle, Washington.
THB IVY PRESS, 8EATTLK
---
archive.org Volume Name: govuscourtsca9briefs1462
Volume: http://archive.org/stream/govuscourtsca9briefs1462
Document Link: http://archive.org/stream/govuscourtsca9briefs1462#page/n340/mode/1up
Top Keywords (auto-generated):
coal, land, patent, painter, deposits, title, lands, issued, department, ed, right, reservation, void, government, rec
Top Key Phrases (auto-generated):
coal deposits, painter patent, land department, elk coal, coal land, absolutely void, coal deposits., land office, southern pacific, wholly inadvertently, valuable coal, section 34, pre emption, mineral land, land depart
Document Status: UGLY