v1462-403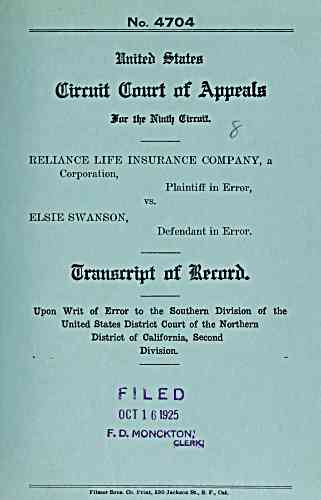 No. 47 04
Initeh States
trrmt (Hmvt of AppmU
(9
RELIANCE LIFE INSURANCE COMPANY, a
Corporation,
Plaintiff in Error,
vs.
ELSIE SWANSON,
Defendant in Error.
ratismpt of IworJu
Upon Writ of Error to the Southern Division of the
United States District Court of the Northern
District of California, Second
Division.
FILED
OCT 1 6 1925
monckton;
CL&RKj
Filmer Bros. Oo. Print, 330 Jackson St., S. F., Oal.
---
archive.org Volume Name: govuscourtsca9briefs1462
Volume: http://archive.org/stream/govuscourtsca9briefs1462
Document Link: http://archive.org/stream/govuscourtsca9briefs1462#page/n402/mode/1up
Top Keywords (auto-generated):
swanson, insurance, policy, life, elsie, reliance, occupation, death, district, amendment, charles, oil, accident, captain, hazardous
Top Key Phrases (auto-generated):
life insurance, reliance life, san francisco, accident insurance, elsie swanson., captain swanson, elsie ann, swan son, ann swanson, northern district, insur ance, ralph wilson, john ralph, premium rates, elsie swanson
Document Status: UGLY