v1505-133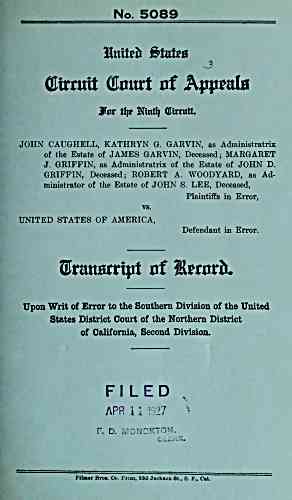 No. 5089
aimfrfc Stains
3
(Etrrmt (Eourf of Appeals
Jte tip Nutfij C&tmrtt
JOHN CAUGHELL, KATHRYN G. GARVIN, as Administratrix
of the Estate of JAMES GARVIN, Deceased; MARGARET
J. GRIFFIN, as Administratrix of the Estate of JOHN D.
GRIFFIN, Deceased; ROBERT A. WOODYARD, as Ad-
ministrator of the Estate of JOHN S. LEE, Deceased,
Plaintiffs in Error,
vs.
UNITED STATES OF AMERICA,
Defendant in Error.
rattHrrtpt of Stmnro.
Upon Writ of Error to the Southern Division of the United
States District Court of the Northern District
of California, Second Division.
Fl LED
APR 1 1 1927
F. D.
CL
Filmer Bros. Co. Print, 830 Jackson St., S. h, Cal.
---
archive.org Volume Name: govuscourtsca9briefs1505
Volume: http://archive.org/stream/govuscourtsca9briefs1505
Document Link: http://archive.org/stream/govuscourtsca9briefs1505#page/n132/mode/1up
Top Keywords (auto-generated):
sea, bering, john, seal, sealing, caughell, district, san, seals, california, hunting, 1926, vessel, francisco, fur
Top Key Phrases (auto-generated):
bering sea, john caughell, san francisco, bering sea., fur seal, northern district, james garvin, san jose, sealing voyage, schooner san, pacific ocean, griffin deceased, garvin deceased, deceased margaret, shipping articles
Document Status: UGLY