v1505-211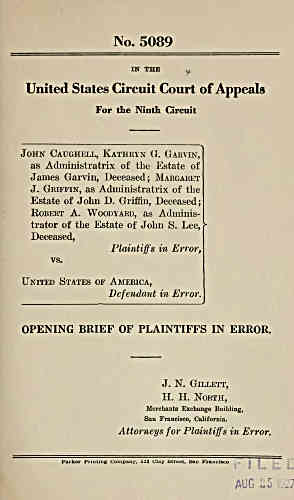 No. 5089
IN THE y.
United States Circuit Court of Appeals
For the Ninth Circuit
John Caughell, Kathryn G. Garvin,
as Administratrix of the Estate of
James Garvin, Deceased; Margaret
J. Griffin, as Administratrix of the
Estate of John D. Griffin, Deceased;
Robert A. Woodyard, as Adminis-
trator of the Estate of John S. Lee,
Deceased,
Plaintiffs in Error,
vs.
United States of America,
Defendant in Error.
OPENING BRIEF OF PLAINTIFFS IN ERROR.
J. N. GlLLETT,
H. H. North,
Merchants Exchange Building,
San Francisco, California.
Attorneys for Plaintiffs in Error.
Parker Printing Company, 523 Clay Street, San Francisco
---
archive.org Volume Name: govuscourtsca9briefs1505
Volume: http://archive.org/stream/govuscourtsca9briefs1505
Document Link: http://archive.org/stream/govuscourtsca9briefs1505#page/n210/mode/1up
Top Keywords (auto-generated):
sea, bering, seal, san, pacific, jose, sealing, ocean, 1888, voyage, transcript, hunting, john, hunt, uncontradicted
Top Key Phrases (auto-generated):
bering sea, san jose, pacific ocean, san francisco, sealing voyage, john caughell, fur seal, enter bering, bering sea., voy age, seal herd, january 1888, james garvin, hunt seal, hunting voyage
Document Status: UGLY