v1505-229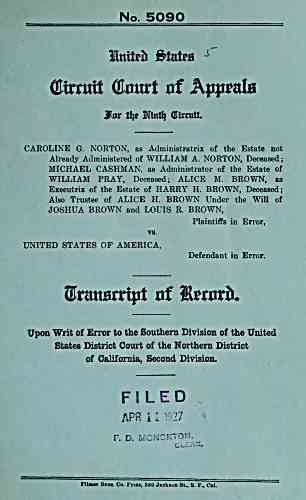 No. 5090
(Etrnttt (tart of &ppml*
3tar tip Sfattfj Qtorrutt
CAROLINE G. NORTON, as Administratrix of the Estate not
Already Administered of WILLIAM A. NORTON, Deceased ;
MICHAEL CASHMAN, as Administrator of the Estate of
WILLIAM PRAY, Deceased; ALICE M. BROWN, as
Executrix of the Estate of HARRY H. BROWN, Deceased;
Also Trustee of ALICE H. BROWN Under the Will of
JOSHUA BROWN and LOUIS R. BROWN,
Plaintiffs in Error,
vs.
UNITED STATES OF AMERICA,
Defendant in Error.
rattflrnpt of Urroro.
Upon Writ of Error to the Southern Division of the United
States District Court of the Northern District
of California, Second Division.
FILED
APR 1 1 1927
F. D. MGNC ' "
Filmer Bros. Co. Print, 330 Jackson St., S. F., CaL
---
archive.org Volume Name: govuscourtsca9briefs1505
Volume: http://archive.org/stream/govuscourtsca9briefs1505
Document Link: http://archive.org/stream/govuscourtsca9briefs1505#page/n228/mode/1up
Top Keywords (auto-generated):
sea, bering, seal, sealing, norton, district, seals, brown, fur, vessel, caroline, hunting, july, 1889, voyage
Top Key Phrases (auto-generated):
bering sea, henry dennis, fur seal, bering sea., san francisco, northern district, joshua brown, pacific ocean, william pray, schooner henry, custom house, port townsend, brown deceased, sealing voyage, pribilof islands
Document Status: UGLY