v1505-313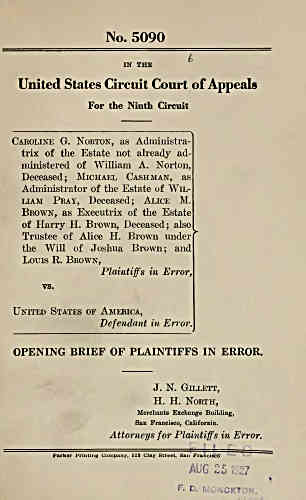 No. 5090
_
IN THE
United States Circuit Court of Appeals
For the Ninth Circuit
Caroline G. Norton, as Administra-
trix of the Estate not already ad-
ministered of William A. Norton,
Deceased; Michael C ashman, as
Administrator of the Estate of Wil-
liam Pray, Deceased; Alice M.
Brown, as Executrix of the Estate
of Harry H. Brown, Deceased; also
Trustee of Alice H. Brown under
the Will of Joshua Brown; and
Louis R. Brown,
Plaintiffs in Error,
vs.
United States of America,
Defendant in Error.
OPENING BRIEF OF PLAINTIFFS IN ERROR.
J. N. GlLLETT,
H. H. North,
Merchants Exchange Building,
San Francisco, California.
Attorneys for Plaintiffs in Error.
Parker Printing Company, 523 Clay Street, San Francisco
AUG ~5
F. C
---
archive.org Volume Name: govuscourtsca9briefs1505
Volume: http://archive.org/stream/govuscourtsca9briefs1505
Document Link: http://archive.org/stream/govuscourtsca9briefs1505#page/n312/mode/1up
Top Keywords (auto-generated):
sea, bering, seal, henry, dennis, trade, pacific, ocean, sealing, voyage, transcript, port, hunting, 1889, july
Top Key Phrases (auto-generated):
bering sea, henry dennis, pacific ocean, fur seal, sealing voyage, coasting trade, bering sea., 58 ., word trade, tran script, custom house, schooner henry, joshua brown, hunting voyage, unalaska harbor
Document Status: UGLY