v1505-527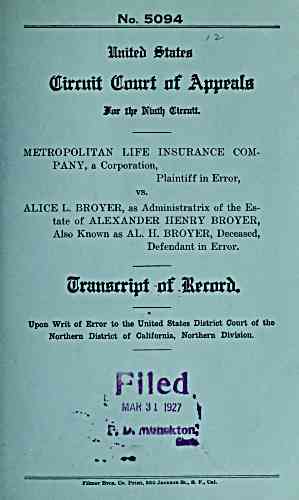 No. 5094
dfrrmt dmtrt nf Appeals
3for % Nwtlj (Utrnrtt
METROPOLITAN LIFE INSURANCE COM-
PANY, a Corporation,
Plaintiff in Error,
vs.
ALICE L. BROYER, as Administratrix of the Es-
tate of ALEXANDER HENRY BROYER,
Also Known as AL. H. BROYER, Deceased,
Defendant in Error.
QtmiBtvvpt of Jtarfc.
Upon Writ of Error to the United States District Court of the
Northern District of California, Northern Division.
Filed.
; ' MAH 3 i 1927 k
ft l* moiKktoiC
Filmer Bros. Oo. Print, 330 Jackson St., B. if'., Cai.
---
archive.org Volume Name: govuscourtsca9briefs1505
Volume: http://archive.org/stream/govuscourtsca9briefs1505
Document Link: http://archive.org/stream/govuscourtsca9briefs1505#page/n526/mode/1up
Top Keywords (auto-generated):
broyer, insurance, death, life, means, metropolitan, policy, district, california, alice, gas, accidental, caused, room, 1926
Top Key Phrases (auto-generated):
life insurance, metropolitan life, caused directly, br oyer., northern district, john lehners., san francisco, accidental means., defend ant, violent means., gas jet, eldred boland, accidental means, henry broyer, alexander henry
Document Status: UGLY