v1505-649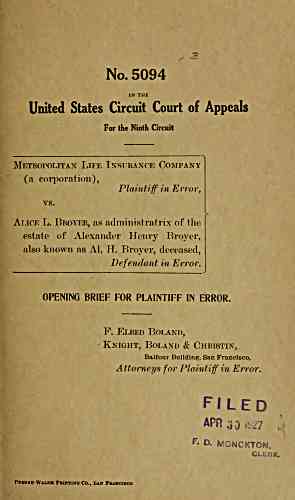 /
No. 5094
United States Circuit Court of Appeals
For the Ninth Circuit
Metropolitan Life Insurance Company
(a corporation),
Plaintiff in Error,
vs.
Alice L. Broyer, as administratrix of the
estate of Alexander Henry Broyer,
also known as Al. H. Broyer, deceased,
Defendant in Error.
OPENING BRIEF FOR PLAINTIFF IN ERROR.
Elred Boland,
Knight, Boland & Christin,
Balfour Building, San Francisco,
Attorneys for Plaintiff in Error.
FILED
APfl.jO
F - D. MONCKTON.
CL
Pebnau-Walsh Printing Co., San Fbanoisoo
---
archive.org Volume Name: govuscourtsca9briefs1505
Volume: http://archive.org/stream/govuscourtsca9briefs1505
Document Link: http://archive.org/stream/govuscourtsca9briefs1505#page/n648/mode/1up
Top Keywords (auto-generated):
death, means, accidental, gas, broyer, violent, policy, ins, caused, result, presumption, life, suicide, travelers, ordinary
Top Key Phrases (auto-generated):
accidental means, travelers ins., life ins., gas cock, acci dental, accidental means., violent means, means ., ordinary habits, gas asphyxiation, gas jet, accidental death, violent means., death caused, dental means
Document Status: UGLY