v1523-581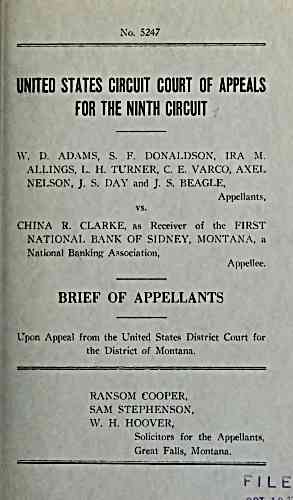 No. 5247
UNITED STATES CIRCUIT COURT OF APPEALS
FOR THE NINTH CIRCUIT
ADAMS, S. F. DONALDSON, IRA M.
ALLINGS, L. H. TURNER, C. E. VARCO, AXEL
NELSON, J. S. DAY and J. S. BEAGLE,
Appellants,
vs.
CHINA R. CLARKE, as Receiver of the FIRST
NATIONAL BANK OF SIDNEY, MONTANA, a
National Banking' Association,
Appellee.
BRIEF OF APPELLANTS
Upon Appeal from the United States District Court for
the District of Montana.
RANSOM COOPER,
SAM STEPHENSON,
HOOVER,
Solicitors for the Appellants,
Great Falls, Montana.
FILE
r% r^ t r 1'
---
archive.org Volume Name: govuscourtsca9briefs1523
Volume: http://archive.org/stream/govuscourtsca9briefs1523
Document Link: http://archive.org/stream/govuscourtsca9briefs1523#page/n580/mode/1up
Top Keywords (auto-generated):
statute, limitations, loans, equity, bank, national, montana, turner, liability, ed, wilson, violation, directors, courts, receiver
Top Key Phrases (auto-generated):
national bank, stock farms, sidney montana, paragraph vii, national banking, corsicana national, banking association, additional loans, wilson turner, varco axel, turner stock, statute starts, sam stephenson, ransom cooper, limitations applies
Document Status: UGLY