v1559-5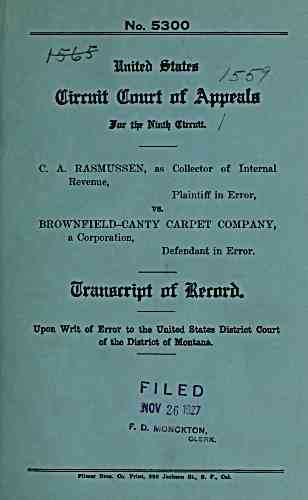 No. 5300
CUtrttttt Qlourt of KppmU
Jfxx % NtxtJij (Strnrtt /
RASMUS8EN, as Collector of Internal
Revenue,
Plaintiff in Error,
vs.
BROWNFIELD-CANTY CARPET COMPANY,
a Corporation,
Defendant in Error.
ranarrtpt of If rnrJu
Upon Writ of Error to the United States District Court
of the District of Montana.
FILED
.NOV 26 1327
F- D. iVJONCKTON.
CLEFiK.
Filmer Bros. Oo. Print, 330 Jackson St., S. F., Oal.
---
archive.org Volume Name: govuscourtsca9briefs1559
Volume: http://archive.org/stream/govuscourtsca9briefs1559
Document Link: http://archive.org/stream/govuscourtsca9briefs1559#page/n4/mode/1up
Top Keywords (auto-generated):
paragraph, 31, january, taxes, tax, ending, 1919, canty, montana, revenue, internal, 68, district, admits, rasmussen
Top Key Phrases (auto-generated):
january 31, ending january, canty carpet, answering paragraph, internal revenue, 31 1919, brownfield canty, additional taxes, march 1925, income tax, taxes assessed, silver bow, ad mits, 1916 1917, interest thereon
Document Status: UGLY