v1559-595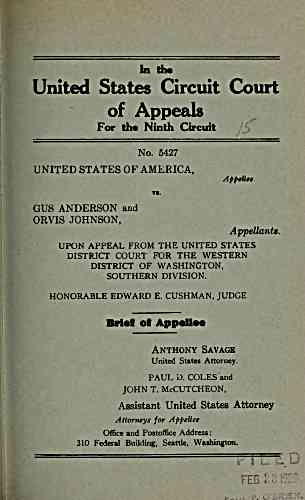 In Uie
United States Circuit Court
of Appeals
For the Ninth Circuit
No. 5427
UNITED STATES OF AMERICA,
ApptlUe.
GUS ANDERSON and
ORVIS JOHNSON,
Appellants.
UPON APPEAL FROM THE UNITED STATES
DISTRICT COURT FOR THE WESTERN
DISTRICT OF WASHINGTON,
SOUTHERN DIVISION.
HONORABLE EDWARD E. CUSHMAN, JUDGE
Briet ot Appell
Anthony Savage
United States Attorney.
PAUL D. COLES and
JOHN T. McCUTCHEON,
Assistant United States Attorney
Attorneys for Appellee
Office and Postoffice Address :
310 Federal Building, Seattle, Washington.
^
FEb
---
archive.org Volume Name: govuscourtsca9briefs1559
Volume: http://archive.org/stream/govuscourtsca9briefs1559
Document Link: http://archive.org/stream/govuscourtsca9briefs1559#page/n594/mode/1up
Top Keywords (auto-generated):
anderson, johnson, gus, orvis, count, john, district, whiskey, iii, honorable, guilty, gallons, 2nd, washington, review
Top Key Phrases (auto-generated):
orvis johnson, gus anderson, john berg, western district, washington southern, pierce county, non obstante, mccutcheon assistant, honorable edward, appell ant, anthony savage, ant gus, york life, wire connected, vis johnson
Document Status: UGLY