v1559-757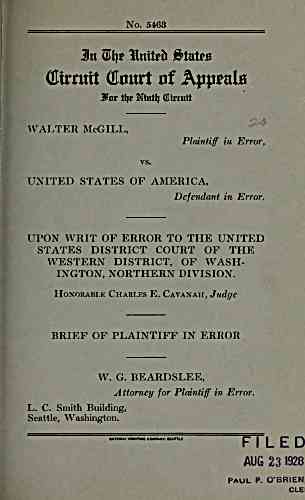 No. 5463
Jn SifF United BtnttB
dtrruit Olourt of Appeals
J0r tl0 Ntwtli (dtrrutt
WALTER McGILL,
Plaintiff in Error,
vs.
UNITED STATES OF AMERICA,
Defendant in Error.
UPON WRIT OF ERROR TO THE UNITED
STATES DISTRICT COURT OF THE
WESTERN DISTRICT, OF WASH-
INGTON, NORTHERN DIVISION.
Honorable Chables E. Caaanah, Judge
BRIEF OF PLAINTIFF IN ERROR
BEARDSLEE,
Attorney for Plaintiff in Error.
Smith Building,
Seattle, Washington.
QATEWAY PRINTINQ COMPANY. KATTLE
FILED
AUG 23 1928
PAUL P. O'BRIEN
CLE
---
archive.org Volume Name: govuscourtsca9briefs1559
Volume: http://archive.org/stream/govuscourtsca9briefs1559
Document Link: http://archive.org/stream/govuscourtsca9briefs1559#page/n756/mode/1up
Top Keywords (auto-generated):
smuggling, goods, waters, offense, merchandise, bringing, importation, duties, customs, liquor, district, country, tariff, port, mere
Top Key Phrases (auto-generated):
walter mcgill, inland waters, word smuggling, western district, section 593, port angeles, mere attempts, goods wares, foreign country, coast guard, wash ington, tinely introducing, shore goods, mere possession, intro duction
Document Status: UGLY