v1655-303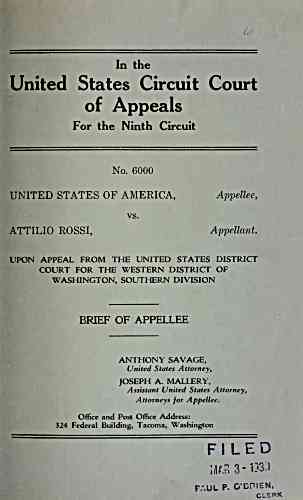 In the
United States Circuit Court
of Appeals
For the Ninth Circuit
No. 6000
UNITED STATES OF AMERICA, Appellee,
vs.
ATTILIO ROSSI, Appellant.
UPON APPEAL FROM THE UNITED STATES DISTRICT
COURT FOR THE WESTERN DISTRICT OF
WASHINGTON, SOUTHERN DIVISION
BRIEF OF APPELLEE
ANTHONY SAVAGE,
United States Attorney,
JOSEPH A. MALLERY,
Assistant United States Attorney,
Attorneys for Appellee.
Office and Post Office Address:
324 Federal Building, Tacoma, Washington
Fl LED
;/ifP, 3 - vr-sa
r.-.UL p. O'DHIEN.
CLERK
---
archive.org Volume Name: govuscourtsca9briefs1655
Volume: http://archive.org/stream/govuscourtsca9briefs1655
Document Link: http://archive.org/stream/govuscourtsca9briefs1655#page/n302/mode/1up
Top Keywords (auto-generated):
guilty, plea, counts, count, sentence, indictment, lloyd, iv, convictions, offense, district, iii, former, search, discretion
Top Key Phrases (auto-generated):
nolle prosequi, former convictions, setting aside, attilio rossi, western district, washington southern, subsequent offense, plead guilty, mccutch eon, mallery assistant, indictment counts, fourth conviction, former jeopardy, former convictions., dismissal heretofore
Document Status: UGLY