v1655-627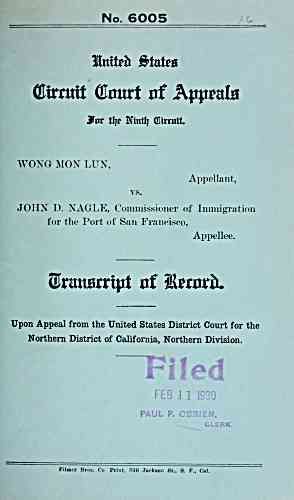 No. 6005
(Hmnxt (Hmvt of AjjjjalH
WONG MON LUN,
Appellant,
vs.
JOHN D. NAGLE, Comniis.sioner of Immigration
for the Port of San Francisco,
Appellee.
ranamiJt af WuaxlL
Upon Appeal from the United States District Court for the
Northern District of Calif oniia, Northern Division.
FEB 1 1 1930
PAUL P. OiJniEN',
CLERK
Filnaer Bros. Co Print. 330 Jackson St., S. F., Cal.
---
archive.org Volume Name: govuscourtsca9briefs1655
Volume: http://archive.org/stream/govuscourtsca9briefs1655
Document Link: http://archive.org/stream/govuscourtsca9briefs1655#page/n626/mode/1up
Top Keywords (auto-generated):
wong, mon, sam, yick, sin, lun, moon, detained, vancouver, firm, petition, district, 1929, photograph, john
Top Key Phrases (auto-generated):
wong mon, sam yick, wong moon, mon lun, mon sin, moon sin, mon poo, habeas corpus, san francisco, northern district, whose photograph, moon lim, mon lim, 531 main, 1928 wong
Document Status: UGLY