v1881x-377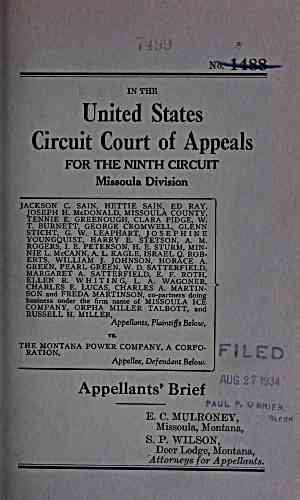 IN THE
United States
Circuit Court of Appeals
FOR THE NINTH CIRCUIT
Missoula Division
jackson c. sain, hettie sain, ed ray,
joseph h. Mcdonald, missoula county,
tennie e. greenough, clara pidge, w.
burnett, george cromwell, glenn
sticht, g. w. leaphart, josephine
youngquist, harry e. stetson, a. m.
rogers, i. e. peterson, h. e. sturm, min-
nie l. mccann, a. l. kagle, israel q. rob-
erts, william j. johnson, horace a.
green, pearl green, w. d. satterfield,
margaret a. satterfield, e. f. roth,
ellen r. whiting, l. a. wagoner,
charles e. lucas, charles a. martin-
SON and FREDA MARTINSON, co-partners doing
business under the firm name of MISSOULA ICE
COMPANY, ORPHA MILLER TALBOTT, and
RUSSELL H. MILLER,
Appellants, Plaintiffs Below,
vs.
THE MONTANA POWER COMPANY, A CORPO-
RATION,
Appellee, Defendant Below.
Appellants* Brief
M W
PAUU
MULRONEY,
Missoula, Montana,
WILSON,
Deer Lodge, Montana,
Attorneys for Appellants.
---
archive.org Volume Name: govuscourtsca9briefs1881x
Volume: http://archive.org/stream/govuscourtsca9briefs1881x
Document Link: http://archive.org/stream/govuscourtsca9briefs1881x#page/n376/mode/1up
Top Keywords (auto-generated):
water, right, ditch, pac, mont, rights, inches, diversion, mill, change, stream, dam, higgins, flow, 1953
Top Key Phrases (auto-generated):
mill ditch, higgins ditch, water commissioner, water works, water rights, rattlesnake creek, city water, water right, entire flow, low water, higgins ditch., decreed rights, 645 inches, water commissioners, miners inches
Document Status: UGLY