v1936-271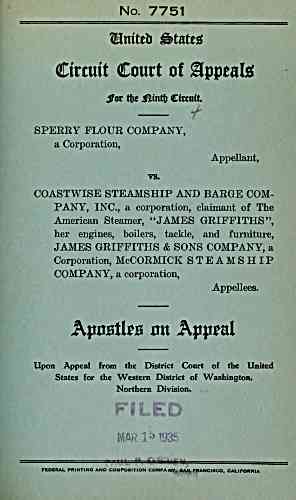 No. 7751
Winittis ^mts
Ctrcutt Court of MpptaU
Jfor tiit imtli Cirttttt.
/-
SPERRY FLOUR COMPANY,
a Corporation,
Appellant,
vs.
COASTWISE STEAMSHIP AND BARGE COM-
PANY, INC., a corporation, claimant of The
American Steamer, "JAMES GRIFFITHS",
her engines, boilers, tackle, and furniture,
JAMES GRIFFITHS & SONS COMPANY, a
Corporation, McCORMICK STEAMSHIP
COMPANY, a corporation,
Appellees.
Ap00tU0 an Appeal
Upon Appeal from the District Court of the United
States for the Western District of Washington,
Northern Division.
IViap 1 ^ m*^^
FEDERAL PRINTINO AND COMPOSITION COMPANY, SA;4. FRANCISCO, CALIFORNIA
---
archive.org Volume Name: govuscourtsca9briefs1936
Volume: http://archive.org/stream/govuscourtsca9briefs1936
Document Link: http://archive.org/stream/govuscourtsca9briefs1936#page/n270/mode/1up
Top Keywords (auto-generated):
steamship, flour, vessel, barge, james, sperry, griffiths, coastwise, mortensen, dobrin, tweedt, respondent, cross, libel, master
Top Key Phrases (auto-generated):
sperry flour, coastwise steamship, james griffiths, steamship barge, mccormick steamship, steamer james, griffiths sons, san francisco, properly manned, manned equipped, respects seaworthy, cross respondent, james grif, grif fiths, stanley griffiths.,
Document Status: UGLY