v1960-339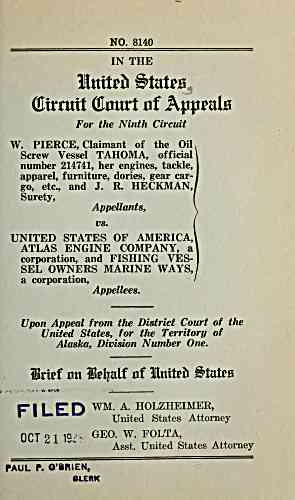 NO. 8140
IN THE
Oltrruit Qlnurt of Appala
For the Ninth Circuit
PIERCE, Claimant of the Oil
Screw Vessel TAHOMA, official
number 214741, her engines, tackle,
apparel, furniture, dories, gear car-
go, etc., and J. R. HECKMAN,
Surety,
Appellants,
vs.
UNITED STATES OF AMERICA,
ATLAS ENGINE COMPANY, a
corporation, and FISHING VES-
SEL OWNERS MARINE WAYS,
a corporation.
Appellees.
Upon Appeal from the District Court of the
United States, for the Territory of
Alaska, Division Number One.
Imf 0tt ltjalf 0f Intteii BUUb
PI LED ^^- ^- HOLZHEIMER,
" United States Attorney
OCT ^ 1 19- ' ^^^- ^' FLTA,
^ ^" ' Asst. United States Attorney
PAUL f. O'iRlEN,
ALCRK
---
archive.org Volume Name: govuscourtsca9briefs1960
Volume: http://archive.org/stream/govuscourtsca9briefs1960
Document Link: http://archive.org/stream/govuscourtsca9briefs1960#page/n338/mode/1up
Top Keywords (auto-generated):
tahoma, vessel, pierce, hunt, master, american, transfer, ltd, 46, citizen, wave, registry, owner, johnson, foreign
Top Key Phrases (auto-generated):
hunt ltd., ta homa, trust confidence, atlas engine, trans fer, title 46, merchant marine, ves sel, tony martinsen, tackle apparel, marine ways, claimant pierce, prince rupert, pierce claimant, foreign trade
Document Status: UGLY