v1960-587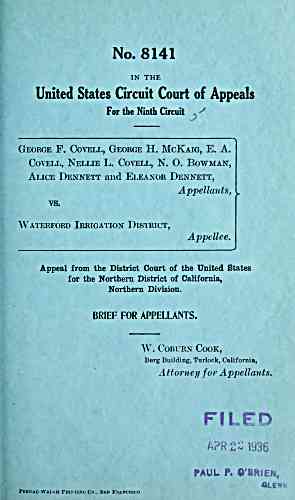 No. 8141
IN THE
United States Circuit Court of Appeals
For the Ninth Circuit - ^
George F. Covell, George H. McKaig, E. A.
CovELL, Nellie L. Covell, N. 0. Bowman,
Alice Dennett and Eleanor Dennett,
Appellants,
vs.
Waterford Irrigation District,
Appellee,
Appeal from the District Court of the United States
for the Northern District of California,
Northern Division.
BRIEF FOR APPELLANTS.
CoBURN Cook,
Berg Building, Turlock, California,
Attorney for Appellants.
FILED
APR 2C I93e
Pehxac-Walsh Pbixting Co., San FnANCisco
PAUL P. Q'BFliENp
---
archive.org Volume Name: govuscourtsca9briefs1960
Volume: http://archive.org/stream/govuscourtsca9briefs1960
Document Link: http://archive.org/stream/govuscourtsca9briefs1960#page/n586/mode/1up
Top Keywords (auto-generated):
district, bonds, irrigation, power, plan, section, property, bankruptcy, california, taxing, congress, cal, districts, constitution, creditors
Top Key Phrases (auto-generated):
irrigation district, taxing district, waterford irrigation, section 80, california irrigation, refunding bonds, bankruptcy power, irrigation districts, taxing districts, reconstruction finance, national bank, extra session, districts securities, bank ruptcy, irri gation
Document Status: UGLY