v1973-801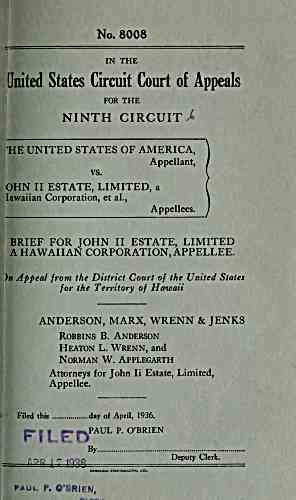 No. 8008
IN THE
Inited States Circuit Court of Appeals
FOR THE
NINTH CIRCUIT i
HE UNITED STATES OF AMERICA,
Appellant,
VS.
OHN II ESTATE, LIMITED, a
lawaiian Corporation, et al.,
Appellees.
BRIEF FOR JOHN II ESTATE, LIMITED
A HAWAIIAN CORPORATION, APPELLEE.
)n Appeal from the District Court of the United States
for the Territory of Hawaii
ANDERSON, MARX, WRENN & JENKS
RoBBiNS B. Anderson
H EATON L. Wrenn, and
Norman W. Applegarth
Attorneys for John li Estate, Limited,
Appellee.
Filed this day of April, 1936.
File" pPAUL P. O'BRIEN
HONOLULU STAR-BULLETIN, LTD.
jAUk P. O'SRIEN,
---
archive.org Volume Name: govuscourtsca9briefs1973
Volume: http://archive.org/stream/govuscourtsca9briefs1973
Document Link: http://archive.org/stream/govuscourtsca9briefs1973#page/n800/mode/1up
Top Keywords (auto-generated):
rights, right, property, government, fishery, compensation, fisheries, condemnation, damages, rec, congress, land, private, navigation, harbor
Top Key Phrases (auto-generated):
pearl harbor, li estate, estate limited, private property, john li, sea fisheries, vested rights, fishing rights, fifth amendment, paramount right, waipio hanapouli, property rights, private rights, hanapouli homaikaia, res judicata
Document Status: UGLY