v2107-985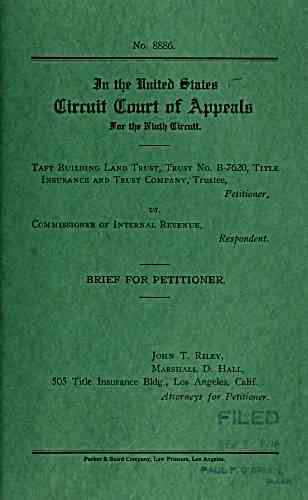 No. 8886.
(Hlvmxt (Hanvt of Appla
IKor % Nttttlj (Etcrutt,
Taft Building Land Trust, Trust No. B-7620, Title
Insurance and Trust Company, Trustee,
Petitioner,
vs.
Commissioner of Internal Revenue,
Respondent.
BRIEF FOR PETITIONER.
John T. Riley,
Marshall D. Hall,
505 Title Insurance Bldg., Los Angeles, Calif.
Attorneys for Petitioner.
Parker & Baird Company, Law Printers, Los Angeles.
---
archive.org Volume Name: govuscourtsca9briefs2107
Volume: http://archive.org/stream/govuscourtsca9briefs2107
Document Link: http://archive.org/stream/govuscourtsca9briefs2107#page/n984/mode/1up
Top Keywords (auto-generated):
business, trust, tax, income, petitioner, trustee, property, revenue, section, lease, corporation, taxable, article, trade, engaged
Top Key Phrases (auto-generated):
nonresident alien, income tax, alien individual, capital stock, stock tax, foreign corporation, constitute engaging, association taxable, sun realty, commissioner 296, busi ness, trust property, trust estate, term lease, section 211
Document Status: UGLY