v2119-141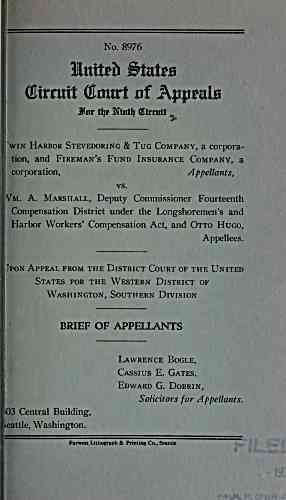 I
No. 8976
dtrrutt (Hanxt af AppmiB
Jnr tij? Ntntlj (Utrntit ^
I WIN Harbor Stevedoring & Tug Company, a corpora-
tion, and Fireman's Fund Insurance Company, a
corporation, Appellants,
vs.
Vm. a. Marshall, Deputy Commissioner Fourteenth
Compensation District under the Longshoremen's and
Harbor Workers' Compensation Act, and Otto Hugo,
Appellees.
JpoN Appeal from the District Court of the United
States for the Western District of
Washington, Southern Division
BRIEF OF APPELLANTS
Lawrence Bogle,
Cassius E. Gates,
Edward G. Dobrin,
Solicitors for Appellants.
03 Central Building,
eattle, Washington.
Farwest Lithograph & Printing Co., Seattle
---
archive.org Volume Name: govuscourtsca9briefs2119
Volume: http://archive.org/stream/govuscourtsca9briefs2119
Document Link: http://archive.org/stream/govuscourtsca9briefs2119#page/n140/mode/1up
Top Keywords (auto-generated):
compensation, app, div, 2d, district, capacity, hugo, injury, disability, harbor, earning, workers, work, commissioner, award
Top Key Phrases (auto-generated):
workers compensation, harbor workers, earning capacity, deputy commissioner, wage earning, washington southern, title 33, partial disability, stevedoring corp., stevedore foreman, otto hugo, fund insurance, earning capacity., candado stevedoring, 802 803
Document Status: UGLY