v2119-197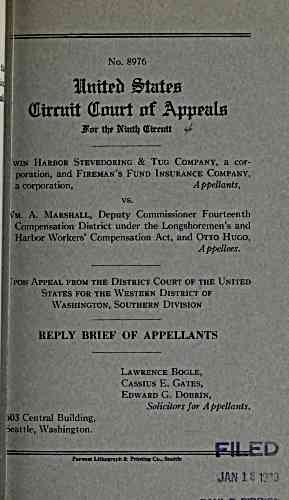 No. 8976
Oltrnttt (Hanvi of Appmis
For tle Nttl (ttirrult --
^RBOR Stevedoring & Tug Company, a cor-
Iporation, and Fireman's Fund Insurance Company,
corporation, Appellants,
vs.
. A. Marshall, Deputy Commissioner Fourteenth
Compensation District under the Longshoremen's and
arbor Workers' Compensation Act, and Otto Hugo,
Appellees.
toppeal from the district court of the united
States for the Western District of
Washington, Southern Division
REPLY BRIEF OF APPELLANTS
Lawrence Bogle,
Cassius E. Gates,
Edward G. Dobrin,
Solicitors for Appellants.
303 Central Building,
Seattle, Washington.
m=ED
Farwest Lithosraph & Printing Co., Seattle
JAN 1 8 19:
---
archive.org Volume Name: govuscourtsca9briefs2119
Volume: http://archive.org/stream/govuscourtsca9briefs2119
Document Link: http://archive.org/stream/govuscourtsca9briefs2119#page/n196/mode/1up
Top Keywords (auto-generated):
compensation, york, div, br, app, employee, work, award, support, injured, courts, construction, 2d, title, injury
Top Key Phrases (auto-generated):
deputy commissioner, title 33, injured employee, settled construction, earning capacity, york statute, workers compensation, language quoted, harbor workers, actual earnings, 2d 764, 215 app., york courts, western district, washington southern
Document Status: UGLY