v2237-311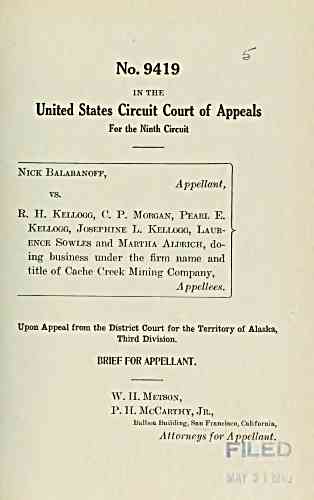 No. 9419
IN THE
United States Circuit Court of Appeals
For the Ninth Circuit
Nick Balabanoff,
vs.
Appellant,
Kellogg, C. P. Morgan, Pearl E.
Kellogg, Josephine L. Kellogg, Laxje- )-
ence Sowles and Martha Aldrigh, do-
ing business mider the firm name and
title of Cache Creek Mining Company,
Appelleefi.
Upon Appeal from the District Court for the Territory of Alaska,
Third Division.
BRIEF FOR APPELLANT.
II. Metson,

McCarthy, Jr.,
Balboa Building, San Francisco, California,
Attorneys for Appellant.
Jippeuant.
FILED
---
archive.org Volume Name: govuscourtsca9briefs2237
Volume: http://archive.org/stream/govuscourtsca9briefs2237
Document Link: http://archive.org/stream/govuscourtsca9briefs2237#page/n310/mode/1up
Top Keywords (auto-generated):
creek, water, ditch, nuggett, mining, waters, appropriation, claims, erred, right, miners, riparian, rights, nugget, inches
Top Key Phrases (auto-generated):
nuggett creek, nugget creek, miners inches, price ditch, iowa bench, section 367, nuggett creek., inches measured, compiled laws, 360 miners, sixty 360, non riparian, mining operations, appro priation, placer mining
Document Status: UGLY