v2294-519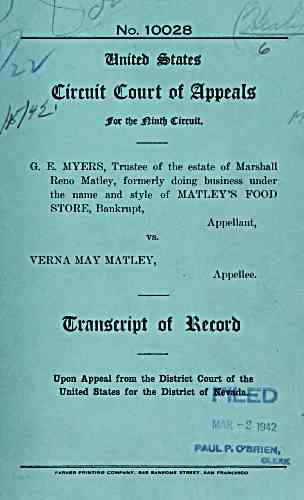 No. 10028 '
6
/ Wimit ^tatesf
F'
Circuit Court ot Appeals;
Jfor tfje iintft XxtvXX.
MYERS, Trustee of the estate of Marshall
Reno Matley, formerly doing business under
the name and style of MATLEY 'S FOOD
STORE, Bankrupt,
Appellant,
vs.
VERNA MAY MATLEY,
Appellee.
trrnuicript of Becorb
Upon Appeal from the District Court of the
United States for the District of Nevada.
2 1942
PAUL P. O'BRIEN,
OLEIttC
PARKER PRINTINO COMPANY. S49 SANSOMr STREET. SAN FRANCISCO
---
archive.org Volume Name: govuscourtsca9briefs2294
Volume: http://archive.org/stream/govuscourtsca9briefs2294
Document Link: http://archive.org/stream/govuscourtsca9briefs2294#page/n518/mode/1up
Top Keywords (auto-generated):
matley, homestead, bankrupt, nevada, verna, property, 1940, petition, trustee, reno, bankruptcy, petitioner, filing, declaration, myers
Top Key Phrases (auto-generated):
reno matley, marshall reno, ford sedan, caliente street, reno nevada, homestead exemption, washoe county, food store, bank rupt, 316 caliente, street reno, matley formerly, reno washoe, points relied, judicial process
Document Status: UGLY