v2315-841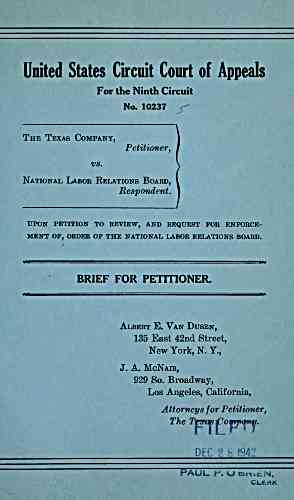 United States Circuit Court of Appeals
For the Ninth Circuit
No. 10237 -"
The Texas Company,
Petitioner,
vs.
National Labor Relations Board,
Respondent.
upon petition to review, and request for enforce-
ment OF, ORDER OF THE NATIONAL LABOR RELATIONS BOARD.
BRIEF FOR PETITIONER.
Albert E. Van Dusen,
135 East 42nd Street,
New York, N. Y.,
McNair,
929 So. Broadway,
Los Angeles, California,
Attorneys for Petitioner,
The Trr(mJowpcfny.
DEC 2 h m
PAUL. P. U fic:N,
CLRK
---
archive.org Volume Name: govuscourtsca9briefs2315
Volume: http://archive.org/stream/govuscourtsca9briefs2315
Document Link: http://archive.org/stream/govuscourtsca9briefs2315#page/n840/mode/1up
Top Keywords (auto-generated):
rosen, union, petitioner, labor, 2d, activities, national, relations, discharged, ship, employees, vessel, statements, crew, washington
Top Key Phrases (auto-generated):
national labor, labor relations, union activities, unfair labor, peti tioner, chief mate, union activities., labor practices, gordon rosen, active union, rights guaranteed, crew list, anti union, union statements, supervisory employees
Document Status: UGLY