v2449-365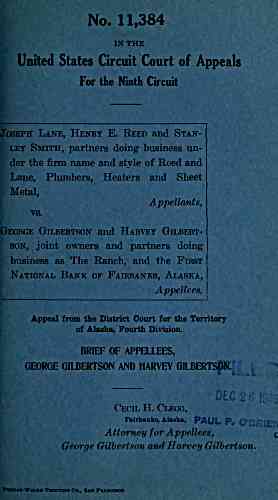 No. 11,384
IN THE
United States Circuit Court of Appeals
For the Ninth Circuit
Joseph Lane, Henry E. Reed and Stan-
ley Smith, partners doing business un-
der the firm name and style of Reed and
Lane, Plumbers, Heaters and Sheet
Metal,
Appellants,
vs.
Oeorge Gilbertson and Harvey Gilbert-
son, joint owners and partners doing
business as The Ranch, and the First
National Bank of Fairbanks, Alaska,
Appellees.
Appeal from the District Court for the Territory
of Alaska, Fourth Division.
BRIEF OF APPELLEES,
GEORGE GILBERTSON AND HARVEY GILBERTSON.
Cecil H. Cigg,
Fairbanks, Alaska, PAUL P
Attorney for Appellees,
George Gilbertson and Harvey Gilbertson.
Pkknau-Walsh PRiMTmo Co., Sak Fbanoiboo
---
archive.org Volume Name: govuscourtsca9briefs2449
Volume: http://archive.org/stream/govuscourtsca9briefs2449
Document Link: http://archive.org/stream/govuscourtsca9briefs2449#page/n364/mode/1up
Top Keywords (auto-generated):
alaska, gilbertson, cards, business, reed, laws, george, claimed, assignments, 1946, writing, workmen, motions, memory, lane
Top Key Phrases (auto-generated):
george gilbertson, fairbanks alaska, harvey gilbertson., summers 231, son joint, plumbers heaters, national bank, ley smith, lane plumbers, lane henry, joseph lane, gilbert son, criminal code, compiled laws, alaska fourth
Document Status: UGLY