v2449-927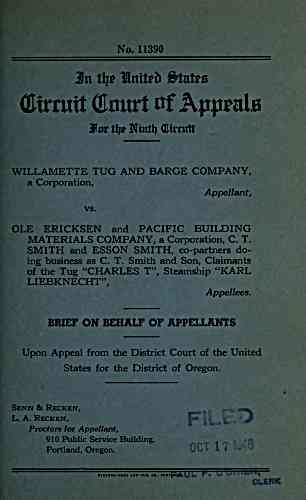 No. 11390
3n tijp l&niUb BtattB
j0r lljF Nuitli (Btrnitt
WILLAMETTE TUG AND BARGE COMPANY,
a Corporation,
vs.
OLE ERICKSEN and PACIFIC BUILDING
MATERIALS COMPANY, a Corporation, C. T.
SMITH and ESSON SMITH, co-partners do-
ing business as C. T. Smith and Son, Claimants
of the Tug ''CHARLES T", Steamship "KARL
LIEBKNECHT",
Appellees.
BRIEF ON BEHALF OF APPELLANTS
Upon Appeal from the District Court of the United
States for the District of Oregon.
Senn & Recken,
Recken,
Proctors for Appellant,
910 Public Service Building,
Portland, Oregon.
STEVCNS-NES3 LAW
PUB CO.. PORlVIfSlU i- ' "^ '-^ '*"'"l
CLERK
---
archive.org Volume Name: govuscourtsca9briefs2449
Volume: http://archive.org/stream/govuscourtsca9briefs2449
Document Link: http://archive.org/stream/govuscourtsca9briefs2449#page/n926/mode/1up
Top Keywords (auto-generated):
tug, vessel, smith, charter, barge, willamette, contract, charterer, owner, demise, control, charles, son, captain, affreightment
Top Key Phrases (auto-generated):
willamette tug, tug barge, tug charles, smith son, pro hac, ole ericksen, esson smith, charter pro, hac vice., hac vice, entire command, owner retains, 257 83, smith 8b, karl liebknecht
Document Status: UGLY