v2481-335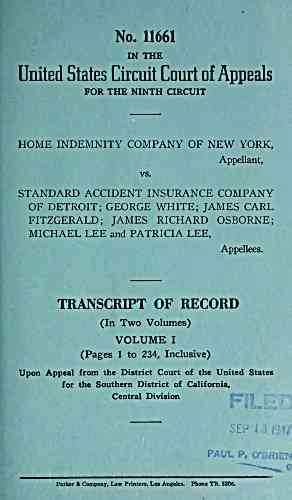 No. 11661
IN THE
United States Circuit Court of Appeals
FOR THE NINTH CIRCUIT
HOME INDEMNITY COMPANY OF NEW YORK,
Appellant,
vs.
STANDARD ACCIDENT INSURANCE COMPANY
OF DETROIT; GEORGE WHITE; JAMES CARL
FITZGERALD; JAMES RICHARD OSBORNE;
MICHAEL LEE and PATRICIA LEE,
Appellees.
TRANSCRIPT OF RECORD
(In Two Volumes)
VOLUME I
(Pages 1 to 234, Inclusive)
Upon Appeal from the District Court of the United States
for the Southern District of California,
Central Division
PAUL P, O'SaiBN
Parker & Company, Law Printers, Los Angeles. Phone TR. 5206.
---
archive.org Volume Name: govuscourtsca9briefs2481
Volume: http://archive.org/stream/govuscourtsca9briefs2481
Document Link: http://archive.org/stream/govuscourtsca9briefs2481#page/n334/mode/1up
Top Keywords (auto-generated):
white, george, home, indemnity, york, policy, insurance, transcript, lee, issued, automobile, actions, accident, thomas, menzies
Top Key Phrases (auto-generated):
george white, home indemnity, insurance issued, standard accident, policy issued, accident insurance, zephyr automobile, richard osborne, lincoln zephyr, james richard, james carl, carl fitzgerald, michael lee, leana mae, san diego
Document Status: UGLY