v2535-761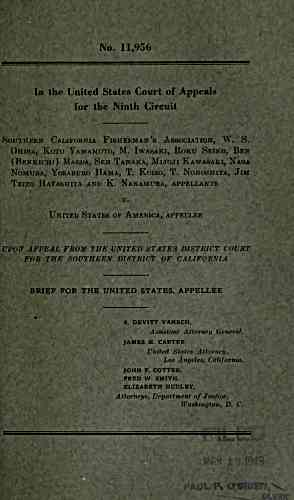 '*. -'...T. '-^ ''- '
INo. 11,956
III the iJnited Slates Court of Appeals
for the Ninth Circuit
Southern California Fisherman's Association, W. S.
Ohika, Koto Yamamoto, M. Iwasaki, Roku Seiko, Ben
(Benkichi) Maeda, Sen Tanaka, Mijoji Kawasaki, Naoa
Nomura, Yosaburo Hama, T. Koiso, T. Nonoshita, Jim
Tbizo Hatashita ami I. Nakamuba, appellants
United States of America, appellee
UPON APPEAL FROM THE UNITED STATES. DISTRICT COURT
FOR THE SOUTHERN DISTRICT OF CALIFORNIA
BRIEF FOR THE UNITED STATES, APPELLEE
DEVITT VANECH.
Assistant Attor
JAMES M. CARTER.
United Stat,
Los Angeles, Catijornia.
JOHN F. COTTER.
FRED W. SMITH.
ELIZABETH DUDLEY.
Attorneys, Department of Justice.
Wasliigtfl/ . ^'
---
archive.org Volume Name: govuscourtsca9briefs2535
Volume: http://archive.org/stream/govuscourtsca9briefs2535
Document Link: http://archive.org/stream/govuscourtsca9briefs2535#page/n760/mode/1up
Top Keywords (auto-generated):
buildings, land, owner, property, government, city, 2d, fee, improvements, right, owned, remove, los, compensation, messer
Top Key Phrases (auto-generated):
fee owner, los angeles, appel lants, 2d 793, petty motor, boston terminal, 1946 ., 1943 ., lake improvement, eagle lake, condemnation proceeding, boston chamber, boston 217, 793 795, yosaburo hama
Document Status: UGLY