v2546-147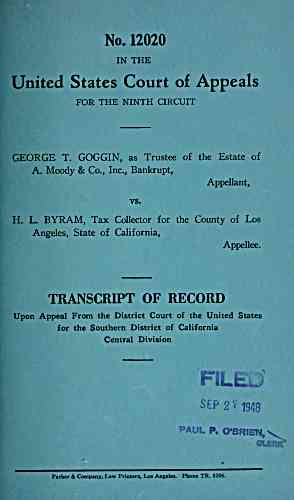 No. 12020
IN THE
United States Couft of Appeals
FOR THE NINTH CIRCUIT
GEORGE T. GOGGIN, as Trustee of the Estate of
Moody & Co., Inc., Bankrupt,
Appellant,
vs.
BYRAM, Tax Collector for the County of Los
Angeles, State of California,
Appellee.
TRANSCRIPT OF RECORD
Upon Appeal From the District Court of the United States
for the Southern District of California
Central Division
SEP2'M948
PAUL P, O'BRIEN, Nw
Parker & Company, Law Printers, Los Angeles. Phone TR. 5206.
---
archive.org Volume Name: govuscourtsca9briefs2546
Volume: http://archive.org/stream/govuscourtsca9briefs2546
Document Link: http://archive.org/stream/govuscourtsca9briefs2546#page/n146/mode/1up
Top Keywords (auto-generated):
trustee, bankruptcy, debtor, referee, tax, 1947, property, petition, county, los, george, byram, 1948, district, angeles
Top Key Phrases (auto-generated):
los angeles, tax collector, personal property, byram tax, chapter xi, warehouse receipts, san pedro, bankrupt estate, laugharn referee, haslett warehouse, southern district, street los, pedro street, bankruptcy endorsed, property taxes
Document Status: UGLY