v2546-71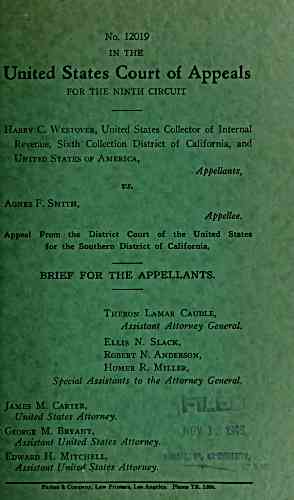 No. 12019
IN THE
United States Court of Appeals
FOR THE NINTH CIRCUIT
Harry C. Westover, United States Collector of Internal
Revenue, Sixth Collection District of California, and
United States of America,
Appellants,
vs.
Agnes F. Smith,
Appellee.
Appeal From the District Court of the United States
for the Southern District of California,
BRIEF FOR THE APPELLANTS.
Theron Lamar Caudle,
Assistant Attorney General.
Ellis N. Slack,
Robert N. Anderson,
Homer R. Miller,
Special Assistants to the Attorney General.
James M. Carter,
United States Attorney.
George M. Bryant,
Assistant United States Attorney.
Edward H. Mitchell,
Assistant Unitci States Attorney.
Parker & Company, Law Priatars, Los Angeles. Phone TR. 5206.
---
archive.org Volume Name: govuscourtsca9briefs2546
Volume: http://archive.org/stream/govuscourtsca9briefs2546
Document Link: http://archive.org/stream/govuscourtsca9briefs2546#page/n70/mode/1up
Top Keywords (auto-generated):
capital, gain, taxpayer, income, exchange, stock, commissioner, property, 2d, section, contract, payments, tax, logan, basis
Top Key Phrases (auto-generated):
fair market, internal revenue, capital gain, revenue code, capital gains, section 111, ordinary income, contractual right, ordinary income., complete liquidation, ascertainable fair, section 115, capital assets, capital asset, income tax
Document Status: UGLY