v2705-7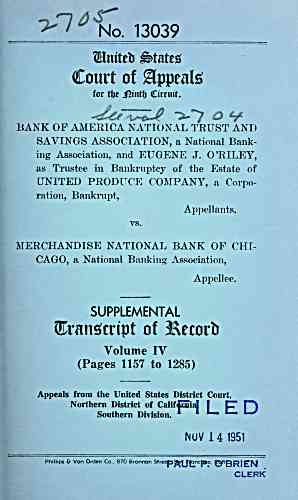 ^li
No. 13039
Court of ^pcalg
for tfje iintf) Circuit.
BANK OF AMERICA NATIONxVL TEUST AND
SAVINGS ASSOCIATION, a National Bank-
ing Association, and EUGENE J. O 'RILEY,
as Trustee in Bankruptcy of the Estate of
UNITED PRODUCE COMPANY, a Corpo-
ration, Bankrupt,
Appellants,
vs.
MERCHANDISE NATIONAL BANK OF CHI-
CAGO, a National Banking Association,
Appellee.
SUPPLEMENTAL
?Kranscript of lecorb
Volume IV
(Pages 1157 to 1285)
Appeals from the United States District Court,
Northern District of CalifEi^ f CT F^
Southern Division. * ~" ~" ^""^
NUV 14 1951
Phillips & Van Orden Co., 870 Brannan StreepaDlf tonc&o, "QPIpM
CLERK
---
archive.org Volume Name: govuscourtsca9briefs2705
Volume: http://archive.org/stream/govuscourtsca9briefs2705
Document Link: http://archive.org/stream/govuscourtsca9briefs2705#page/n6/mode/1up
Top Keywords (auto-generated):
bank, 48, undersigned, holder, receivable, accounts, sundry, collateral, payment, chicago, cents, subsequent, property, national, hereof
Top Key Phrases (auto-generated):
accounts receivable, various subsequent, sundry collateral., subsequent assignments, national bank, merchandise natl., merchandise national, holder hereof, assigned hereunder, sundry col, schedule specified, indebtednesses liabilities, deposit tag, col lateral., volume iv
Document Status: UGLY