v2740x-543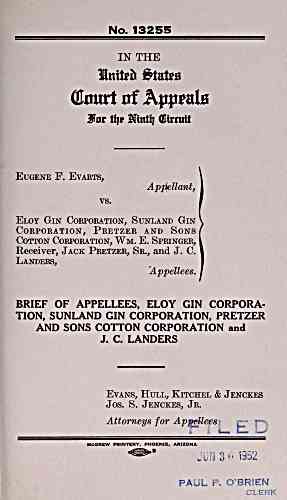 No. 13255
IN THE
(Enuri of Appeals
3far tifr Nittttf Ofornttt
Eugene P. Evarts,
Appellant,
vs.
Eloy Gin Corporation Sunland Gin
Corporation, Pretzer and Sons
Cotton Corporation, Wm. E. Springer,
Receiver, Jack Pretzer, Sr., and J. C.
Landers,
"Appellees.
BRIEF OF APPELLEES, ELOY GIN CORPORA-
TION, SUNLAND GIN CORPORATION, PRETZER
AND SONS COTTON CORPORATION and
LANDERS
Evans, Hull, Kitchel & Jenckes
Jos. S. Jenckes, Jr.
Attorneys for AppHlees ^ r
MCGREW PR1NTERY. PHOENIX, ARIZONA
JUN3 s352
PAUL P. O'BRIEN
ERK
---
archive.org Volume Name: govuscourtsca9briefs2740x
Volume: http://archive.org/stream/govuscourtsca9briefs2740x
Document Link: http://archive.org/stream/govuscourtsca9briefs2740x#page/n542/mode/1up
Top Keywords (auto-generated):
bankruptcy, jurisdiction, equity, ed, debtor, 2d, power, landers, chapter, corporation, bank, cca, referee, receiver, provisions
Top Key Phrases (auto-generated):
debtor corporations, jack pretzer, gin corporation, bank ruptcy, sunland gin, sons cotton, national bank, eloy gin, cotton corporation, corporation pretzer, adequate remedy, pretzer sr., jurisdiction conferred, juris diction, determine controversies
Document Status: UGLY