v2768-948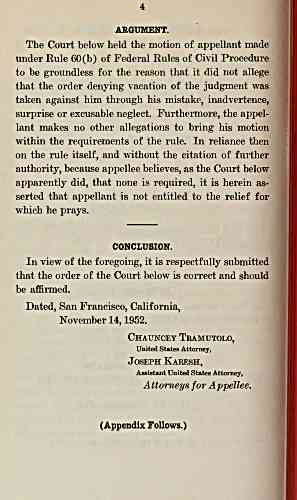 ARGUMENT.
The Court below held the motion of appellant made
imder Rule 60(b) of Federal Rules of Civil Procedure
to be groundless for the reason that it did not allege
that the order denying vacation of the judgment was
taken against him through his mistake, inadvertence,
surprise or excusable neglect. Furthermore, the appel-
lant makes no other allegations to bring his motion
within the requirements of the rule. In reliance then
on the rule itself, and without the citation of further
authority, because appellee believes, as the Court below
apparently did, that none is required, it is herein as-
serted that appellant is not entitled to the relief for
which he prays.
CONCLUSION.
In view of the foregoing, it is respectfully submitted
that the order of the Court below is correct and should
be affirmed.
Dated, San Francisco, California,
November 14, 1952.
Chauncey Tramutolo,
United States Attorney,
Joseph Karesh,
Assistant United States Attorney,
Attorneys for Appellee.
(Appendix Follows.)
---
archive.org Volume Name: govuscourtsca9briefs2768
Volume: http://archive.org/stream/govuscourtsca9briefs2768
Document Link: http://archive.org/stream/govuscourtsca9briefs2768#page/n947/mode/1up
Top Keywords (auto-generated):
relief, judg, rules, proceeding, neglect, inadvertence, fraud, excusable, discovered, below, appendix, surprise, review, relieve, reasons
Top Key Phrases (auto-generated):
newly discovered, mistake inadvertence, inadvertence surprise, federal rules, excusable neglect, vobis audita, sic misrepresentation, satisfied released, san francisco, respectfully submitted, prospective applica, pro cedure., personally notified, otherwise vacated, nobis coram
Document Status: UGLY