v2832-1036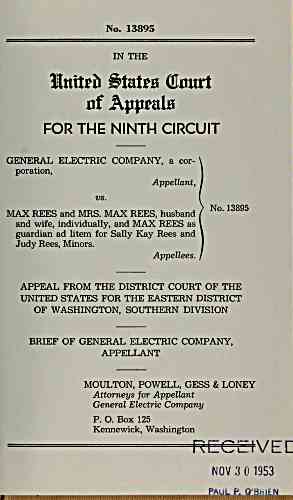 No. 13895
IN THE
Imttb States dourt
of AppKtla
FOR THE NINTH CIRCUIT
GENERAL ELECTRIC COMPANY, a cor-
poration,
Appellant,
vs.
No. 13895
MAX REES and MRS. MAX REES, husband
and wife, individually, and MAX REES as
guardian ad litem for Sally Kay Rees and
Judy Rees, Minors.
Appellees.
APPEAL FROM THE DISTRICT COURT OF THE
UNITED STATES FOR THE EASTERN DISTRICT
OF WASHINGTON, SOUTHERN DIVISION
BRIEF OF GENERAL ELECTRIC COMPANY,
APPELLANT
MOULTON, POWELL, GESS & LONEY
Attorneys for Appellant
General Electric Company
Box 125
Kennewick, Washington
RCCCI VEC
NOV 3 1953
PAULhQ'BMEN
---
archive.org Volume Name: govuscourtsca9briefs2832
Volume: http://archive.org/stream/govuscourtsca9briefs2832
Document Link: http://archive.org/stream/govuscourtsca9briefs2832#page/n1035/mode/1up
Top Keywords (auto-generated):
harvey, 2d, physician, ivan, instruction, negligence, heart, duty, wn, bus, employee, employees, work, care, accident
Top Key Phrases (auto-generated):
ivan harvey, personal physician, proposed instruction, bronchial asthma, max rees, sally kay, respondeat superior, heart disease, ap pellant, washington southern, kay rees, employee ivan, eastern district, 62 stat., 391 .
Document Status: UGLY