v2845-1095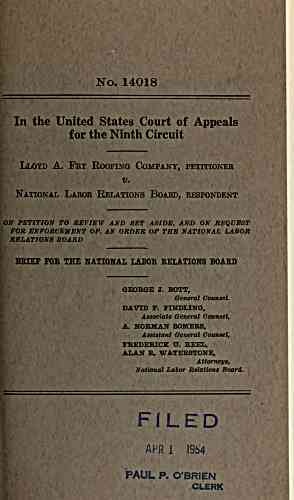 No. 14018
In the United States Court of Appeals
for the Ninth Circuit
Lloyd A. Fry Roofing Company, petitioner
V,
National Labor Relations Board, respondent
ON PETITION TO REVIEW AUD SET ASIDE, AND ON BEQUEST
FOR ENFORCEMENT OF, AN ORDER OF THE NATIONAL LABOR
RELATIONS BOARD
BBJEE FOB THE NATIONAL lABOB BELATIONS BOABD
GEOBOE J. BOTT,
Oeneral Counsel.
DAVID P. FINDLINQ,
Associate Oeneral Counsel,
nobman somebs.
Assistant Oeneral Counsel,
FBEDEBICK XT. BEEL,
AXAN B. WATEBSTONE,
Attorneys,
National Lalor Relations Board.
FILED
APR i 1964
PAUL R O'BRIEN
CLERK
---
archive.org Volume Name: govuscourtsca9briefs2845
Volume: http://archive.org/stream/govuscourtsca9briefs2845
Document Link: http://archive.org/stream/govuscourtsca9briefs2845#page/n1094/mode/1up
Top Keywords (auto-generated):
union, bahrs, authority, petitioner, bargaining, labor, section, representative, 2d, working, conditions, national, unilateral, bargain, conduct
Top Key Phrases (auto-generated):
working conditions, national labor, labor relations, collective bargaining, union representatives, unilateral change, unfair labor, fry roofing, peti tioner, bargain collectively, unilaterally changing, violated section, roth bahrs, labor practices, george bahrs
Document Status: UGLY