v2896-695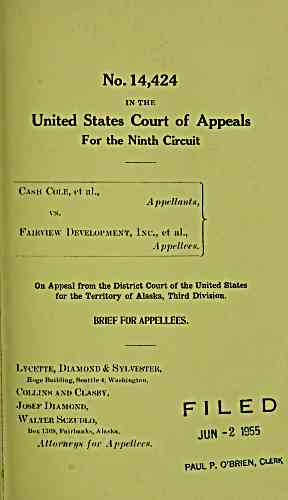 No. 14,424
IN THE
United States Court of Appeals
For the Ninth Circuit
Cash Cole, et al.,
vs.
Appellwits,
Pairvtew Development, Inc., et al.,
Appellees.
On Appeal from the District Court of the United States
for the Territory of Alaska, Third Division.
BRIEF FOR APPELLEES.
Lycette, Diamond & Sylvester,
Hoe Building, Seattle 4. Washington,
Collins and Clasry,
Josef Diamond,
Walter Sczudlo,
Box 1368, Fairbanks, Alaska.
Attorneys for Appellees.
FILED
JUN -2 1955
PAUL P. O'BRIEN, CLERK
---
archive.org Volume Name: govuscourtsca9briefs2896
Volume: http://archive.org/stream/govuscourtsca9briefs2896
Document Link: http://archive.org/stream/govuscourtsca9briefs2896#page/n694/mode/1up
Top Keywords (auto-generated):
cole, par, cash, settlement, corporation, inc, nowell, stipulation, stock, rushlight, vacate, 2d, fairview, directors, stockholders
Top Key Phrases (auto-generated):
cash cole, realty inc., bayview realty, development inc., fairview development, 317 par., 304 par., fairview manor, tom cole, 280 par., 87 par., cash cole., nelse mortensen, everett nowell, cliff mortensen
Document Status: UGLY