v2992-251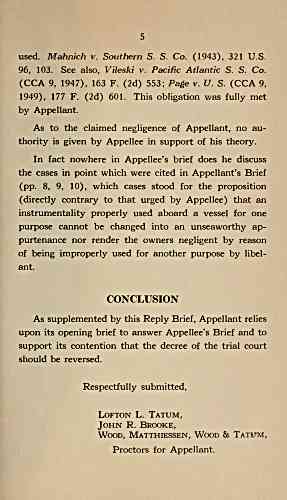 used. Mahnich v. Southern S. S. Co. (1943), 321 U.S.
96, 103. See also, Vileski v. Pacific Atlantic S. S. Co.
(CCA 9, 1947), 163 F. (2d) 553; Page v. U. S. (CCA 9,
1949), 177 F. (2d) 601. This obligation v/as fully met
by Appellant.
As to the claimed negligence of Appellant, no au-
thority is given by Appellee in support of his theory.
In fact nowhere in Appellee's brief does he discuss
the cases in point which were cited in Appellant's Brief
(pp. 8, 9, 10), which cases stood for the proposition
(directly contrary to that urged by Appellee) that an
instrumentality properly used aboard a vessel for one
purpose cannot be changed into an unseaworthy ap-
purtenance nor render the owners negligent by reason
of being improperly used for another purpose by libel-
ant.
CONCLUSION
As supplemented by this Reply Brief, Appellant relies
upon its opening brief to answer Appellee's Brief and to
support its contention that the decree of the trial court
should be reversed.
Respectfully submitted,
Lofton L. Tatum,
John R. Brooke,
Wood, Matthiessen, Wood & Tatitm,
Proctors for Appellant.
---
archive.org Volume Name: govuscourtsca9briefs2992
Volume: http://archive.org/stream/govuscourtsca9briefs2992
Document Link: http://archive.org/stream/govuscourtsca9briefs2992#page/n250/mode/1up
Top Keywords (auto-generated):
wood, support, cca, 2d, vileski, vessel, urged, unseaworthy, thority, theory, tatum, tatitm, supplemented, submitted, stood
Top Key Phrases (auto-generated):
wood tatitm, wood matthiessen, unseaworthy ap, tatum john, tatitm proctors, submitted lofton, respectfully submitted, proposition directly, pacific atlantic, matthiessen wood, libel ant., instrumentality properly, directly contrary, claimed negligence, brooke wood
Document Status: UGLY