v3372-711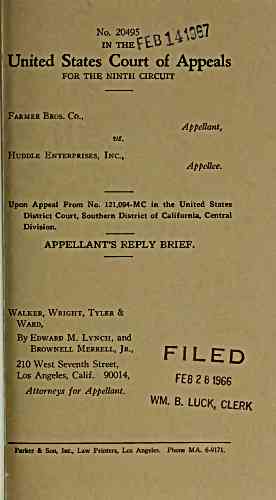 I
^4S51
No. 20495 ^
IN THE^ UJ
nited States Couft of Appeals
FOR THE NINTH CIRCUIT
Farmer Bros. Co.,
vs.
Huddle Enterprises, Inc.,
Appellant,
Appellee.
3on Appeal From No. 121,094-MC in the United States
District Court, Southern District of California, Central
Division.
APPELLANT'S REPLY BRIEF.
TALKER, Wright, Tyler &
I Ward,
; By Edward M. Lynch, and
Brow NELL Merrell, Jr.,
210 West Seventh Street,
3S Angeles, Calif. 90014,
Attorneys for Appellant.
FILED
FEB 2 8 1966
WM. B. LUCK, CLERK
Parker & Son, Inc., Law Printers, Los Angeles. Phone MA. 6-9171.
---
archive.org Volume Name: govuscourtsca9briefs3372
Volume: http://archive.org/stream/govuscourtsca9briefs3372
Document Link: http://archive.org/stream/govuscourtsca9briefs3372#page/n710/mode/1up
Top Keywords (auto-generated):
plan, secured, debtor, creditors, br, creditor, op, junior, interest, claims, arrangement, app, xi, tax, funds
Top Key Phrases (auto-generated):
secured creditor, tax claims, farmer bros., secured creditors, chapter xi, wright tyler, unsecured creditors, southern district, huddle enterprises, enterprises inc., di rectors, california central, added ., 121 094, 094 mc
Document Status: UGLY